Crysteel Upfits
---
Manufacturing Quality: Crysteel's commitment to quality and innovation directly benefits its hoist, dump truck body and platform body customers. Through the years, Crysteel has implemented lean manufacturing principles into its manufacturing processes. These programs have helped Crysteel eliminate waste and provided great value to its customers in the form of higher quality products and shorter lead times.
View Crysteel Upfits
---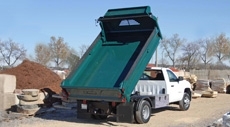 Light Duty Dump Bodies
Crysteel light construction dump bodies provide contractors quality, durability and versatility. Several models are available with designs to suit a variety of light duty applications. Crysteel's line of light dump bodies are ideal for everyone from municipalities and landscapers, to the light construction contractors.
View Crysteel Dump Body Upfits
---
Landscape Bodies
Landscape contractors count on Crysteel landscape bodies for the features and accessories they want and the durability and strength they need. All landscape bodies include Crysteel's industry-exclusive 5-year warranty and can be configured specific to the needs of the specific landscape contractor.
View Crysteel Landscape Upfits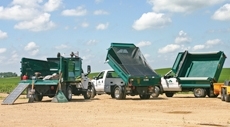 ---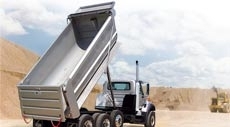 Medium & Heavy Duty Dump Bodies
SMOOTH DESIGN AND STRENGTH TO GET THE JOB DONE
Designed to help contractors get the body that's right for their application and maximize payloads at the same time, Crysteel's line of medium and heavy duty dump bodies is second to none. From the hard working Contractor body to the Select Dump Bodies series, there's a Crysteel body available for almost any project.
View Crysteel Dump Body Upfits