Palfinger Upfits
---
Lifetime excellence is our promise. Our central message. The core of our brand. For our customers, it means uncompromising top performance. The most economical, reliable and innovative lifting solutions in a global network of professional service partners – for the lifetime of the product. Professionals need product solutions with excellent lifecycle performance. For a brand that values efficiency, reliability, and innovation, choose Palfinger.
View Palfinger Trucks
---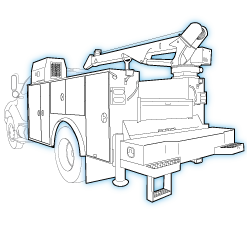 Palfinger Mechanics Body
PAL Pro Mechanics Truck bodies by Palfinger are engineered from the very start of their design to both handle the forces applied by a service crane, and function as a efficient mobile shop for professional mechanics. Combined with a Palfinger Service Crane and Compressor, the PAL Pro makes a powerful addition to any fleet large or small. Every PAL Pro is manufactured using A60 galvanneal steel and dipped in Palfinger's E-Coat system to ensure the best possible rust prevention. Bodies are available in 9' to 14' lengths and capacities ranging from 20,000 ft/lbs to 86,000 ft/lbs.
View Palfinger Mechanics Body Upfits
---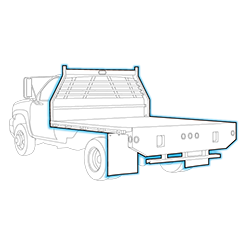 Palfinger Platform Body
Designed and built for service industry providers – contractors, landscapers, maintenance crews, construction, utilities and oil and gas – Palfinger Platform Bodies have become the preferred choice to safely and efficiently transport bulk materials, large equipment and tools; to and from the jobsite. Their heavy-duty welded construction, high grade materials and E-coat protection ensures value and durability for years to come.
View Palfinger Platform Body Upfits
---
Other Palfinger Bodies
Worldwide, Palfinger stands for the most innovative, reliable and efficient lifting, loading and handling solutions for use on commercial vehicles. In North America, our product portfolio qualifies Palfinger as a complete truck-equipment solution provider. Industry sectors rely on Palfinger knuckle boom cranes, truck-mounted forklifts, EPSILON forestry & scrap cranes, aerial work platforms, liftagtes, pick-up lifts, service and truck bodies, PAL Pro mechanic trucks, service cranes, hoists, aerial lifts, hooklifts, cable hoists and container-handling solutions. Whatever your unique application may be, expect Palfinger to have an integrated answer!
View Other Palfinger Body Upfits